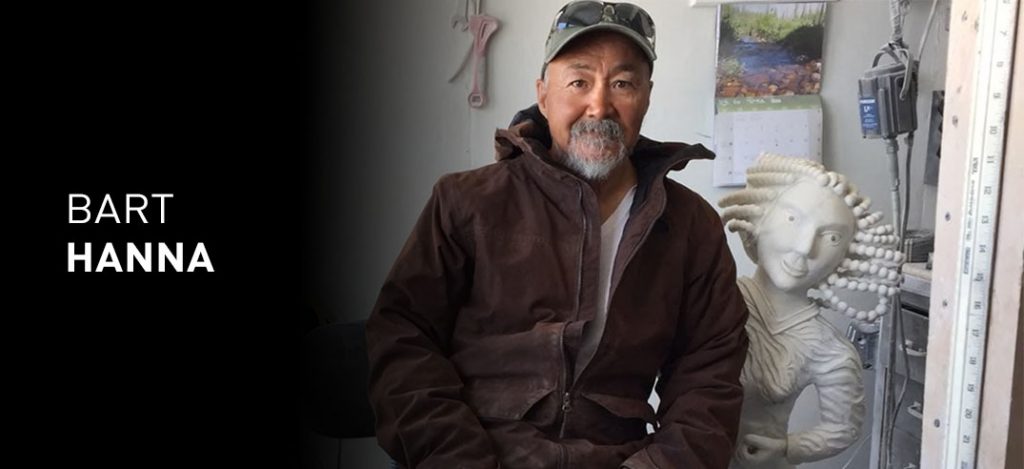 Igloolik, Nunavut
Bart Hanna was born in 1948 in Alanarjuk Lake, and now lives in Igloolik, Nunavut.  He is the youngest brother of Lukie Airut, another well-known and respected carver.
Bart began carving in the early 1960s, when he was sent to Toronto, Ontario for medical treatment.  He has received formal art training in both Canada and the U.S.A.
He carves in many mediums including soapstone, serpentine, narwhal tusk, baleen, walrus bone and tusk, caribou antler, white marble from Arctic Bay, muskox horn and crystalline alabaster.
His style is highly detailed and depicts life in the Arctic and cultural spirits.  He is well-known for his carvings of Sednas, drum dancers and shamanism.  His unique imagination and style can be seen in his creation of male Sednas, which are tradionally represented as female.
He created 23 drawings for "Anijaarniq: Introducing the Inuit Land Skills and Wayfinding", a CD that was developed for Nunavut high school students.
Bart can most often be found in his efficient and modern workshop, creating works that will be found in galleries and museums throughout Canada, the U.S.A. and Europe.