The ceremony took place on Thursday November 17th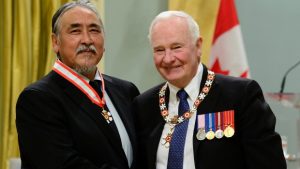 N.W.T. sculptor Abraham Anghik Ruben was at Rideau Hall in Ottawa today to accept his entry into the Order of Canada.
Originally from Paulatuk, Ruben was recognized for his contribution to the art world, and for preserving his Inuvialuit culture.
"It is something I hadn't expected," Ruben said.
"For myself as an artist, it's an honour. It gives me a good feeling to be able to look beyond my work as an artist and the Order of Canada title gives a stronger voice to the work that I do."
Ruben says his sculptures — made of stone and bronze — reflect the stories, myths and legends of his western Arctic culture.
He also says his work carries on the teaching of his parents, friends and relatives.