ART IS STILL THE BEST INVESTMENT.
ART STOCKS MONITOR
Skate's Art Stocks Index
Skate's Art Stocks Index (SASI) is designed to benchmark the performance of Art Stocks – publicly traded companies that derive most of their revenues and profits from art assets and/or servicing art and collectibles markets around the world.
SASI is a market capitalization weighted, USD-based index calculated daily at the close of business at all stock exchanges where constituent companies are listed and traded. Share prices in currencies other than USD are converted from base currencies to USD at the exchange rate available from www.oanda.com on the same day. The inception day of SASI was September 1, 2005 with a base value of 100.
SKATE'S ART STOCKS INDEX VS. S&P 500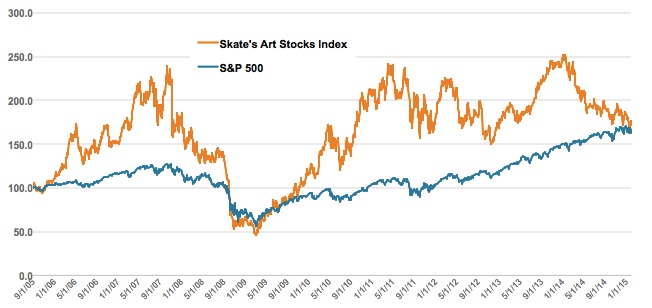 Source: Skate's Art Market Research.