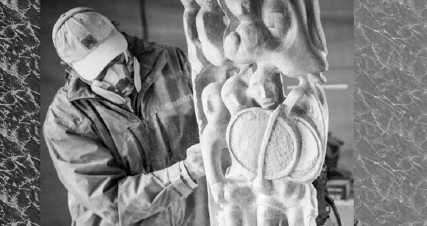 Are you a sculptor or aspiring to become one? Come and take advantage of the opportunity to listen to Abraham Anghik Ruben, a renowned and skilled sculptor, appointed Officer of the Order of Canada in 2016. He will share his personal experiences as well as the many steps taken to master his art.
Looking forward to seeing you there!
Friday, June 2, 2017, from 2:00 to 3:45 P.M.
AGES: 15 to 99 years
PARTICIPANTS: max. 25
ADMISSION: 10$ (taxes incl.) – Free for The Guild's members
***Class in English only***
---
Vous êtes sculpteur(e) ou aspirez à le devenir ? Venez profiter de l'expertise de l'artiste-sculpteur renommé Abraham Anghik Ruben, lauréat de l'Ordre du Canada en 2016. Il vous fera part de son parcours en partageant les étapes qui lui ont permis de maîtriser son art.
Au plaisir de vous y voir !
Vendredi, 2 juin  2017, de 14 h à 15 h 45
ÂGES : 15 à 99 ans
PARTICIPANTS: max. 25
ENTRÉE: 10$ (taxes incl.) – Gratuit pour les membres de la Guilde
***Classe en anglais  seulement***